Few things in life taste as sweet (figuratively, anyway) as serendipity.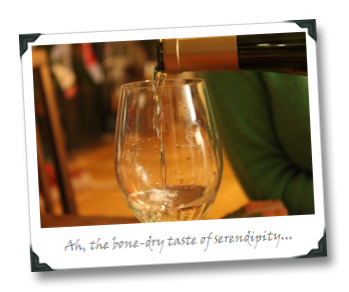 For me, one of the simplest but most rewarding of life's little pleasures is to reach randomly in the wine sample pool, and by lucky happenstance come up with something pleasantly surprising – which is exactly what happened to me late last week.
Last Friday, we whipped up an Indian dish, and I was fiddling around with my long-overdue foray into the ownership of a "proper" camera (modest attempts at lowish-light photog are inset here and below… be gentle, please!), when I was tasked with raiding the basement's ever-expanding world of cardboard shipping boxes to come up with a suitable wine match.
And that's how I first met Keuka Lake Vineyards. Which turned out to be pretty lucky for me.
In this case, serendipity tastes not sweet but bone-friggin-dry – and while the KLV selection did a fantastic job Tandoori Chicken, that's not why it's being featured here this week…