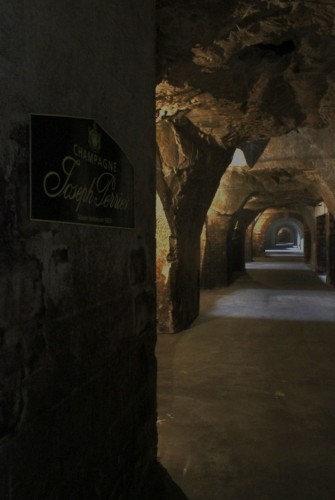 Jean-Claude Fourmon – president of the fourth-generation family-owned Joseph Perrier in Châlons-en-Champagne – doesn't seem at all deterred by the fact that, in the U.S., his brand is probably best known as "that other Perrier" that not-as-many people have tasted.
He's quick with amusing witticisms, bordering on platitudes if not for his fantastic delivery; things like, "a day without Champagne is very sad" (truer words were never spoken, I suppose), "we all know that Prosecco is a poison" (definitely not true, but funny), "grapes, blend, and dosage make all the difference, the rest is fantasy" (refreshingly honest), and "'Can I have another glass?' That is how I measure success!" (not a bad watermark, methinks).
Now, if he were less affable, he might be a bit more worried about the fact that, since they export seventy-five percent of their production, having a lower profile in one of the world's largest wine markets isn't ideal. But Fourmon seems to think that history will prevail.
After all, Joseph Perrier has the Champagne traditions that wine geeks love: along with multi-generational family ownership, there's multi-generational grape-growing supply agreements, multi-generational cellarmasters, equipment that's reminiscent of a working museum, and a history that puts the brand in lock-step with the better-known Champers houses (in the early twentieth century, they shared the region's first paper label with those other brands – only the brand names was changed on each at the time)…