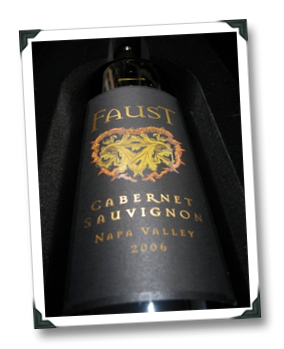 Just when you think that the topic of wine is starting to make sense and really come together for you, you'll probably encounter the convention of naming large format wine bottles.
That should put you firmly back in your lowly place, since the convention of naming bottle sizes carries on the storied wine tradition of utilizing differing standards in order to confuse the living hell out of you.
I've been "thinking big," as in large format bottles, since I recently won a 3L bottle of Faust 2006 Napa Valley Cabernet via the Palate Press Wine For Haiti auction.
The bottle is gorgeous (see inset pic).  The trouble is, I don't know what to call it.
Before we get into that, I should tell you a bit about Faust itself, I suppose.
Faust is the brainchild of Napa legend Agustin Huneeus, who started up Quintessa, owns Veramonte, and had a hand in making other stalwart Napa wines like Franciscan.  It's a big wine, but balanced and tight as a drum early on due to it's massive, dark structure.  It's like the Darth Vader of Napa Cabs, and is (more or less) Quintessa's more-affordable-but-still-pretty-damned-good "second wine." Damned-good… Get it?  Faust… damned… Ok, I'll stop now…
As far as the 2006 goes, it's 77% Cabernet Sauvignon, 19% Merlot, 3% Malbec, and 1% Cabernet Franc – all from Agustin's family vineyards in Rutherford and Atlas Peak.  As far as Hunees goes, according to the Faust website, "He also believes that numerical ratings, as they are used today, are an aberration."  Strong words.
Interestingly (as far as the bottle size discussion goes), I first tried this Faust vintage (via sample) in a 375 ml half-bottle.  I've yet to have the wine from a "normal" 750 ml.
Anyway, on to the good and the ugly of this situation…