To get a feel for how important the culture of the vine is in the tiny and picturesque hilltop town of Villabuena in Rioja Alavesa, consider this: Villabuena has roughly 317 inhabitants, and just over ten percent of them (about 40) are wineries; so the town hosts 1 winery for every 8 or so people.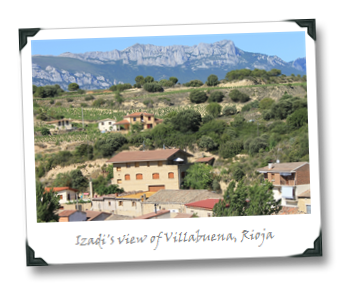 Looking out from the back patio of an old house owned by one of those winemaking residents – Bodegas Izadi– and taking in the quaint images of hanging laundry, satellite dishes, and brick-colored rooftops in the shadow of the mountains, Villabuena proffers an odd locale for a winery. But there must be something to the nearby sloping hills that suits the vine – particularly Tempranillo – to explain the preponderance of wineries that call the town home.
Izadi was founded in the late 1980s by restaurateur Gonzalo Anton, following the dual urges of creating wine good enough that he could serve it to his friends, and wanting to produce wines in a more modern style – clean, and approachable – than those that being produced by other members of his members.
It's ironic, then, that their most compelling wine (in my view, anyway) is the one that has the greatest nod towards Rioja tradition, and is made from the 100-year old vines planted so haphazardly a short drive from the old Villabuena residence that Izadi now calls home…