Sign Up
to get all the latest wine coolness delivered to your virtual doorstep. I've also got
short, easily-digestible mini wine reviews
and some
educational, entertaining wine vids
. If you're looking to up your wine tasting IQ, check out my book
How to Taste Like a Wine Geek: A practical guide to tasting, enjoying, and learning about the world's greatest beverage
. Cheers!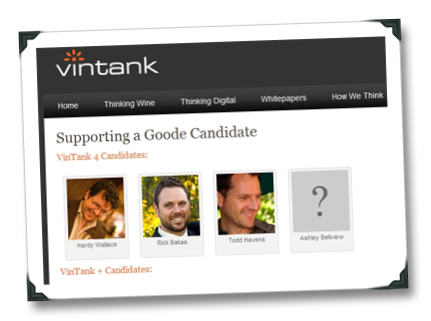 Reality sometimes has a way of bringing strange and awesome congruence to a situation by weaving previously unrelated streams together into a better-together, greater-than-the-sum-of-its-parts style mash-up.  Bananas & pancakes.  Peanut Butter and Chocolate. Bacon and… well, bacon and anything.
At the congruence of wine and Web 2.0, we now find two friends of 1WineDude.com, Dirty South Wine's Hardy Wallace and the Vintank wine & technology think tank, matching strengths.  Sort of.
1WineDude frequent visitors will recall Vintank from my recent coverage of their social media report release, which generated quite a bit of lively discussion on the virtual pages here (not quite as lively as the time I basically called Robert Parker a jerk-wad for dissing bloggers, but pretty darn lively).
Seems that Vintank is now providing over $100K in pro bono work for a hand-picked group of candidates who are currently vying for top spot in the on-line competition to land a 6-month paid stint as the social media guru for Murphy-Goode winery.
Just in time, as the Really Goode Job competition is really heating up good…