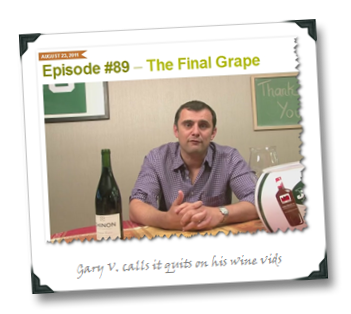 Those of you who have just been rescued from being stranded for decades in South American jungles and are now coming to grips with you strange new world that involves cellular telephones, 3D television and the Global Interwebs, might not have heard that influential wine personality and bestselling author Gary Vaynerchuk last week announced that he has retired from producing his frequent wine-critique videos.
It's a move that, in impact to Gary's fan base, is probably a bit like Howard Stern's recent announcement that he's scaling back the number of shows he will produce each week – which is to say, polorizing.
Gary's latest move comes a little over 160 days after he retired WLTV in favor of his mobile device venture Daily Grape, and a little over seven months after he shut down Corkd. For those concerned that he might also shut down his best-selling books, please note that it's a lot harder to do that once the printed copies are in your hands!
It wasn't a great week for wine personalities sticking around – Mike Steinberger also left the scene (at least temporarily) when he had his excellent wine column axed from Slate (to which I say "F*ck Slate!").  Anyway… The wine world is, understandably, rife with speculation on the Whys behind Gary's move.  I think a (much) more interesting topic, though, is the What: as in, What does Gary's wine retirement from wine criticism mean for the wine world in general?…