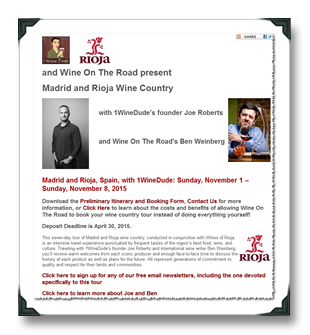 I've got some huge news for you fine wine-&-travel-lovin' folk!
This November, I'll be co-hosting a wine-soaked jaunt to Rioja wine country with esteemed wine writer Ben Weinberg. And hopefully, YOU will be along for the ride!
I'm pretty stoked to be working with Ben on this, and for the opportunity to show you the vinous, cultural, and culinary wonder that is Rioja.
There's much I could write about the awesomeness that will be encountered on this tour, but the high-level summary is that by joining us, you will get the insider, VIP treatment in Rioja wine country, without having to do an of the work (wine writing, reviewing, spitting) that Ben and I normally have to do to get the same. Score!
You can check out all of the details at http://www.wineontheroad.com/spainwith1winedude.php. If it whets your appetite / blows your skirt up / etc., then download the Preliminary Itinerary and Booking Form to get started. You can, of course, always contact Ben or me for more details. For more on Rioja in general, take a gander through the past here at 1WD land. A bit more detail about our upcoming Rioja jaunt is available in video form below after the jump.
This is going to be an entertaining, informative, and incredibly FUN trip. You'll need to prepare your wallet, your mind, and your liver for this incredible jaunt…