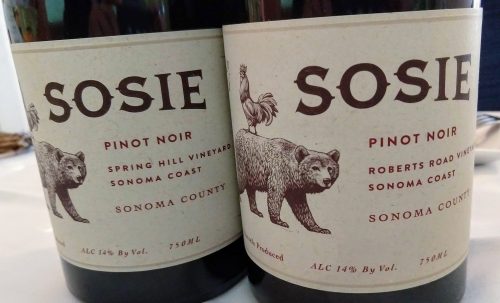 Over the Winter holiday break, I managed to catch up with talented Sonoma-area winemaker and Philly-boy transplant Kieran Robinson, who will soon be opening a tasting room for his wines in the blink-and-you'll-miss-it one-block section of downtown… Downingtown, PA.
Downingtown is basically my backyard, so I'm very much looking forward to the advent of Robinson's new digs, and especially to trying to convince him to hire my band for live gigs once the tasting room opens (seriously… I have no shame when it comes to band gigs). But this little blogging vignette isn't about Robinson's wines, at least not directly.
Kieran brought along his friend and boss Scott MacFiggen, the main man behind Sosie Wines, and for whom Robinson consults as a winemaker. MacFiggen – who started the Sosie brand after falling in love with French wines in Nuits Saint Georges and falling out of love with the corporate world – has a sort of mutual love-affair with 1WD, and so I was happy to meet and get my grubby lips on more of their Napa-Sonoma-based products.
Sosie is a small outfit – they produce only about 800 cases, and so tend to hy away from the 'major' varieties" as MacFiggen puts it. As for Robinson's decision to consult, he put it this way: "no distributor wants to pick up someone with just one wine; business-wise, that doesn't work. And you get itches to make new stuff."
Those itches make for some very satisfying scratches, some of which I'll attempt to relay in the far less satisfying written word…
Read the rest of this stuff »