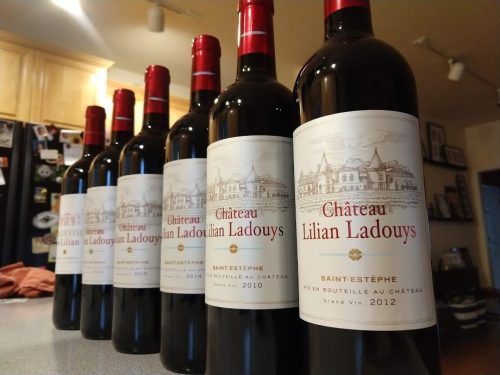 "I think… we're now more precise."
According to manager Vincent Bache-Gabrielsen, that's the secret behind the revitalization of Saint-Estèphe's Château Lilian Ladouys.
If Bache-Gabrielsen's name feels familiar, it's because he also manages Château Pédesclaux, the Pauillac property that the Lorenzetti family purchased just one year after picking up Lilian Ladouys, and which their team also revitalized. If you're sensing a theme here, don't congratulate yourself, because, bluntly stated, the theme is pretty friggin' obvious. And – spoiler alert! – the results are basically the same: an ailing Bordeaux producer weaned off of life support, and now celebrated as doing the rarest of all Bordeaux wine tricks: over-delivering for its price point (you can find their main red for well under $40/bottle).
Backtracking for a bit of history: the Château Lilian Ladouys property dats back to the 1560s, and was revitalized once before in the late 1980s. Like skinny ties and jams shorts, that `80s endeavor was ill-fated, as Ladouys found few buyers for its at-the-time much-elevated prices. Periods of what Bache-Gabrielsen called "irregular quality" followed, until the Lorenzettis saw potential in Ladouys' Saint-Estèphe terroir and decided to buy it, with the understanding that to turn things around "we have to work!"
While 2009 saw immediate improvements that Bache-Gabrielsen termed "interesting," it wasn't until the soils began to really improve in 2010 that the team felt that Ladouys was turning the corner. They've since been engaged in the selling an acquisition of various plots in the region, replanting to maximize proper rootstock usage, and favoring gravelly soils over limestone in an effort to significantly up the percentage of Cabernet Sauvignon in their blend. About 2/3 of their property has since been exchanged in some form or another, and as of 2018 they now have about 80 hectares of vineyards from which to draw, with half of it devoted to Cabernet Sauvignon (the rest being Merlot, Petit Verdot, and a tiny portion of Cabernet Franc), and 80% of it on gravelly soils.
"It's really different from Pauillac," Bache-Gabrielsen told me during a live video tasting, "the subsoil is the same, but you have more clay here, and the limestone is much deeper in Pauillac." This suits their new house style, which is focused on taming extraction and emphasizing aging potential. "We tend to make epicurean wines," he explained, " approachable young but that cab age well. We try to balance the power of Saint-Estèphe with freshness…."