So… it's Valentine's Day… 8AM ET on that day, when this post will first hit the virtual airwaves…
Are you sick enough of all of the bubbly and pink wine recommendations to want to rip off your own skull yet? My strong suspicion is "Yes" [ Editor's Note: please do NOT rip off your own skull ].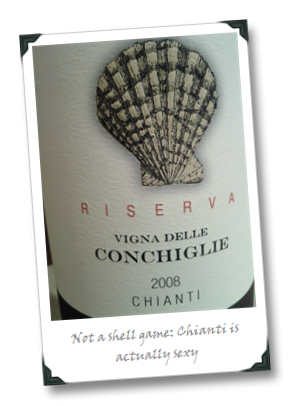 Around this time every year, we get bombarded with coverage of V-Day wine picks, mostly spurred on by PR types pushing sparkling and pink (and, preferably to them, sparkling-that-is-pink) wine recommendations for their clients. I love pink, and I love bubbly, and I love pink bubbly – but right now, I don't even want to look at a bottle of pink sparkling wine. Hey, it's okay to call me a contrarian, because I am, in fact, a contrarian.
And so it's with a nod to my contrarian streak that I offer you a wine recommendation based not on the pink-or-bubbly-or-better-yet-pink-and-bubbly annual publicity onslaught, but rather based on evidence suggested by statistical data. My guess is that my take stands a better chance of actually getting you a happy ending to your romantic evening, given the following deemed-important-by-no-one-but-me tidbits:
a) It's based on real world evidence and not a press release liberally sprinkled with the words "romantic," "special," and "pink,"
b) I write for Playboy.com, which superficially links me to sexiness and so maybe makes me slightly more qualified to pronounce upon a wine's sexiness (okay, that's a stretch…), and
c) Mrs. Dudette is waaaay hotter than I deserve (empirical evidence!), so I might know something about the wooing of beautiful ladies with vino (more likely, I simply got lucky when she said Yes… look, stop raining on my parade and just go with this, it will be fun…).
So if you at least agree that statistical data is potentially better than press releases, you can safely ignore the tongue in cheek b) and c) justifications above, and read on about increasing the chances of getting your tongue in someone else's cheek tonight…