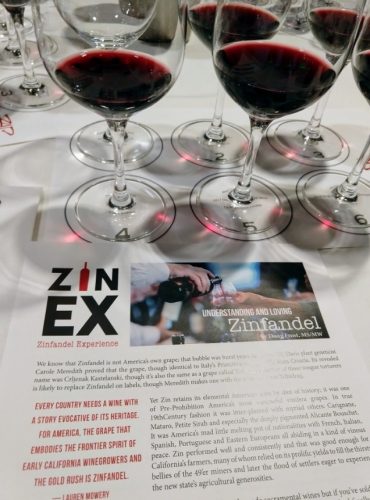 MS, MW, friend of 1WD, and exceptionally cool wine geek Doug Frost is not a man to mince words. As a media guest recently for the 2019 incarnation of Zinfandel Experience in San Francisco, I managed to catch up briefly with Doug, who had this to say regarding Zinfandel continuously being cited as the quintessential American grape variety:
"That's utter bullshit."
This is, of course, because Zinfandel is actually of Croatian origin, where it sometimes goes by the name of Tribidrag (which might also be the name of a character from The Silmarillion… I'm not sure). In the shorter-term history of American fine wine, however, Zinfandel does have deeper roots than most other grapes, Croatian or otherwise. As Frost put it, "back in 1961, Sonoma's principal grape was Zin."
ZinEx, for me, consisted of several tastings, both media-only and open to the public, though I find the former a lot easier to digest than the latter (I'm not exactly a large guy, so it's not easy to signal my way to a spit bucket with a mouthful of high-octane red wine in a crowded room). The minor suffering was worth it, of course, as ZinEx was chock full of excellent examples of the surprising versatility of California's adopted Croat wonder-boy grape.
Following are highlights from my ZinEx encounters (skipping badges, because there are just too many recommendations, 90% of which would just be tagged "Kick-Ass" anyway)…
Read the rest of this stuff »