Aaaand, the giveaways are back, people!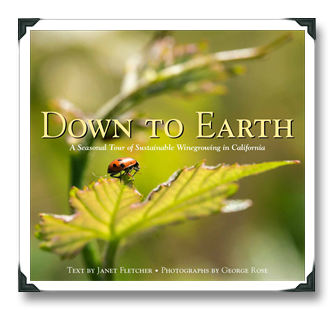 This week, I've got two copies of The Wine Institute's new tome, "Down to Earth: A Seasonal Tour of Sustainable Winegrowing in California" to give away to some of you lucky folk.
As some of you possibly soon-to-be lucky folk already know, I rather enjoyed "Down to Earth" (I received a review copy). Janet Fletcher's text is well-written, the organization of profiled wineries by season provides a helpful context of year-long sustainable farming, and the environmentally-focused efforts by the included wine brands are largely interesting. George Rose's photography might be the real show-stealer in this one, though; as I wrote for Answers.com:
"Rose has a knack for being able to move between intimate subjects (people, animals, insects, and grapes) and larger contexts (hillsides, and vineyards) without losing a sense of the beauty and tranquility in either."
Yeah, I just quoted myself, okay? Anyway, The book concludes with some interesting seasonal recipes as well, which is a nice bonus (well, it is when you have a significant other who happens to be a fantastic cook, like I do).
If you want to grab your own hardcover copy of "Down to Earth" (about $40 value), here's the skinny on how it is all gonna go down…