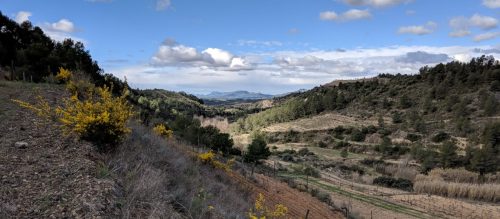 Jesús del Rio Mateu, proprietor of the Masroig-area Mas de l'Abundància – doesn't just have an enviable name; he's also got an enviably amazing vineyard view, enviably old vines, and sits enviably close to one of Spain's critical-darling DOs, Priorat.
He also has an enviably-close relationship to a good importer, Folio Wine Partners, owned by the Michael Mondavi clan, who, Jesús is quick to point out, love to visit his hilly, llicorella-heavy eight hectares of aging vines.
"'Can you fell the energy?' That's what they said when they were here," he told me during a media tour visit to his Montsant DO estate. And while Jesús' "house of plenty" certainly has its own energetic charm, my guess is that the tingling vibes felt by the Mondavis on their visit had more to do with the overhead high-tension power lines. Either that, or it was the pent-up tension in their shoulder-blades being released after taking in the glory of the scenery.
Anyway… the dramatic views of Priorat and the encapsulating Montsant mountain ranges from Jesús' vines seem to have imbued him with senses of both literal and figurative perspective about the place; after all, this region of Spain has belonged to monks, aristocrats, Romans, and Arabs. Jesús puts it this way: "this doesn't belong to me; I belong to it."
The "it" in this case, coupled with ample sunlight, elevation, slope, and a continental climate, have combined to produce Montsant wines that are nearly as compelling, dramatic energetic, and "deep" as Mas de l'Abundància's location…