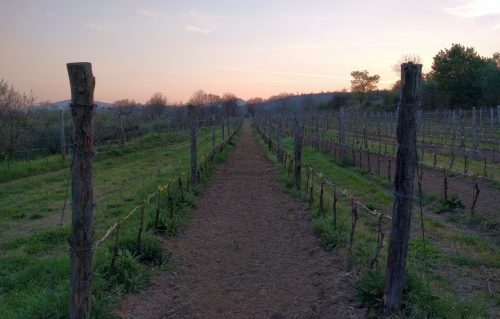 You wouldn't necessarily know it when meeting him, but Nicola Trabucco's childhood nicknames (which in turn provide the fantasy names for two of his eponymous winery's releases) included "bug up the ass" and "active."
Maybe the former consulting agronomist/enologist (and, it could be argued, aging Michael Keaton doppelganger) has mellowed with age? That would be fitting, considering how his flagship Aglianico performs after several years of bottle rest. But let's not get ahead of ourselves; context first, right?
Trabucco spent over ten years as a consultant to wineries in Campania's Falernum region, helping some of his clients achieve high scores from the traditional wine rags, and bringing additional attention (some of it unwanted, apparently) to the Monte Massico area, and a small explosion of sorts in the number of wineries producing and labeling Falerno. In 2003, he opened his own winery in a former Carinola stable, with vineyards seated not far from the coast, among the cherry trees dotted at various elevations on Massico.
By his own account, Trabucco can thank the past for much of his success. Aside from the high Parker scores that helped ensconce his consulting gig, the name Falerno itself is a favorite of history buffs, being derived from the famous falernian wine of ancient Rome. As Trabucco puts it, "Falerno today has little to do with the drink of antiquity." For starters, that wine, though made from Aglianico, was probably white. But, like modern Campania reds, it was powerful; as Pliny the Elder put it, falernian vino was "the only wine that takes light when a flame is applied to it." [ Editor's note: I'll bet that they were sober when they performed that experiment, too. ]
It's how Aglianco fares over time, however, that constitutes its modern reputation; to wit, here's a little trip down Trabucco's corsia di memoria del vino rosso…