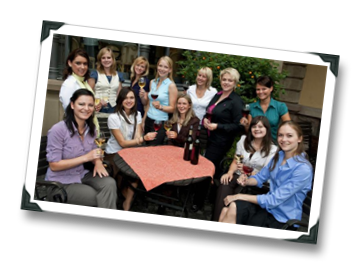 You're going to be hearing quite a bit about German wine here on the virtual pages of 1WineDude this month.  This is due primarily to the fact that German wines totally rock right now, but is influenced primarily by the Twitter Taste Live events that are focusing on German Riesling during the month of October.
The TTL / German Wine blitzkreig kicks into gear in earnest tonight with a blogger tasting event featuring the fantastic wines of Mosel producer Raimund Prum.  I had the pleasure of hanging out with Raimond at the S.A. Prum estate earlier this year, where "Der Specht" entertained us with his tireless promotion of all things Mosel-wine-related, grilled beef for dinner on the estate lawn, and poured copious amounts of his wines without providing a spit bucket.  My kind of wine producer!
The TTL focus on Germany will culminate in a public twitter tasting event of German Reislings on October 22, which I will co-host.  You will NOT want to miss that event, because the wines being featured will be AMAZING.  More to come on Raimund Prum and the October 22nd event next week.
What I want to tell you about today is the email newsletter that I received from the Deutsches Weininstitut. And you're gonna want to pay attention, because sexy ladies are involved.
No, I'm serious…