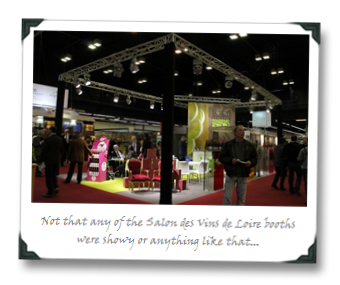 Readers here could be forgiven – what with all of the French wine mini-review action, and the Burgundy, Bordeaux, and Loire features running here lately – for thinking that 1WineDude.com has gone totally Francophile. But then, after I start pumping out the coverage from my recent Napa jaunt, you'll probably start calling me a CA-o-phile… whatever…
I like to think in more Zen terms, in that swinging the pendulum one way, followed by a full-on go-for-broke swing in the other direction, maintains (ironically) a sense of centeredness to our vinous proceedings here.
And so it's in that Zen vein (Zein?) that I top off the Salon des Vins de Loire feature-style coverage by going back to where my Loire wine journey started in the first place, many moons before I'd ever dreamed of actually going there.  After tasting a enough Loire valley wines (most of them new to me) to probably fill the region's river, I'm coming full circle. I'm going to delve into what have long been my two favorite regions in all of its river's serpentine 600+ mile length: Sancerre and  Pouilly-Fumé. Sooooo predictable…
Prior to my press trip to a very chilly and snowy Angers, I was a sucker for the almost-hypnotic flinty, lilting qualities of what might be the world's best Sauvignon Blanc from those areas on the far eastern side of the Loire. And hundreds of Loire wines later, I'm still a sucker for the almost-hypnotically flinty, lilting qualities of what might just be the world's best Sauvignon Blanc.
So it's with a warm spot in my ticker and notes of papaya and grapefruit on my tongue that I give you my thoughts on two family-run outfits that are making near-heart-stoppingly good Loire Sauvignon Blanc, but the whole thing is even more Zen precisely because they aren't at all in-your-face about it: Domaine Vacheron and Chateau de Tracy…