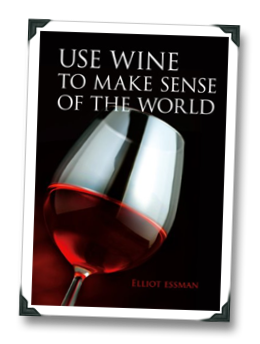 I think I'm beginning to understand what draws me to certain things, whether they be people, works of art, musical pieces, bands, sports teams, or wines.  Yeah, it took me over 30 years, but I have made some progress.
And it's not easy to describe, because there is no single word in the English language that really encapsulates it – at least, not one that I've found.
It's a sense of being genuine.
I don't mean transparent, or honest, or without fault.  I mean, something clearly being… itself.  What appeals to me most is when someone or something has a spark of originality that is obvious to its very core, because he/she/it simply doesn't know how to be any other way.
Which is why I enjoyed Elliot Essman's Use Wine To Make Sense Of The World (the author sent me a review copy).
In an odd way, Essman's writing made me think about that, because at first I could not figure out why I liked his book, which at times felt a bit tedious (there are sections devoted to following his bouts with Internet dating, as told via the wine selections of each date that, while not nearly as cringe-inducing as it sounds, made me scratch my head and wonder what the hell I was reading).
But it all came together for me in the next-to-last chapter ("Use Wine To Make Sense Of Your Brain").  Essman was playing me the whole time…