Master of Wine and scientist Benjamin Lewin's non-fiction book What Price Bordeaux has a title that, unlike many non-fictional works, is meant to convey a series of meanings or themes that are touched on at some point in the body of the work itself.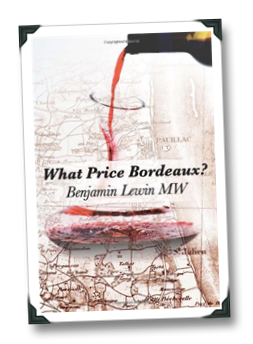 In this case, What Price Bordeaux refers, at turns, to
The skyrocketing prices of wines from Bordeaux's top chateau, while its minor AOCs are in such crisis that they are forced to sell their wines for distillation in order to avoid bankruptcy.
The maddening opacity of Bordeaux's wine business, which Lewin investigated intensely in the writing of his book, and where simple data points, such as the average price of a bottle of red Bordeaux in 2007, were hidden from him by the area's professional organizations.
The 1855 Classification of Bordeaux's top producers, which organized the "best" wines by price in the Medoc (Lewin boldly offers an updated, new classification in What Price Bordeaux, which contains some shockers in terms of who now ranks above whom in current Bordeaux market prices).
The loss of Bordeaux wines' identities in favor of an "International" red wine style currently more popular with consumers and influential wine critics – resulting in skyrocketing price increases and occasional price crashes for high-end Bordeaux wines.
What Price Bordeaux contains enough fodder for a month's worth of wine blog posts, but that would deny you the pleasures (and shock) of reading it (which I recommend that you do).  Instead, it's the last point above that I want to talk about, concentrating on Chapter 10 ("The New Bordeaux"), which alone is worth the price of the book.
After reading Chapter 10 in Lewin's book, I've grown increasingly convinced that Bordeaux wines are becoming more and more like those of the Napa Valley not just because they are chasing the elevated scores that wine critics give to that style of red wine, but also because they may have no other choice…