I like wine (duh).  I also favor, and am often drawn to, personalities that are high-energy, engaging or highly-knowledgeable about their fields of expertise.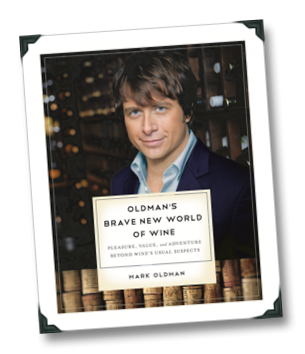 No surprise, then, that I consider Mark Oldman one of the most dynamic – and one of the best – wine educators in the world, since he's got it going on all three fronts.
Most folks out there will recognize Mark's face as the lead judge from the PBS reality-tv series The Winemakers, or will recall his name as the guy who makes the wine picks for the 15+ million readers of Everyday with Rachael Ray magazine.  But I recognize Mark as the guy who wrote the beginner's wine book that I've recommended more than any other wine publication – Oldman's Guide To Outsmarting Wine.  My standard line about Mark's first book for years has been, "this is the one to try first for anyone beginning to get 'into' wine; it's the book I wish I'd had at my side when I was first starting out as a wine buff."  In other words, I thought it was an instance classic.
Outsmarting is still largely unmatched for its combination of verve, intelligence and accessibility – a lot like Mark himself, as you'll quickly learn from our interview below.  Mark has a new book on the shelves (I received a review copy) – Oldman's Brave New World of Wine – and it's geared towards the Intermediate stage of one's vinous journey.  In the pages of Brave New World of Wine, Mark offers up wine recommendations slightly off the beaten path, meant to expand your wine knowledge and delight without expending your bank account.  For the most part, the new book is another stellar achievement for Mark, and more often than not I found myself nodding along with his recommendations and witty-but-wise takes on lesser-known varieties (turns out we're both nuts for Nero d'Avola, ravenous for Rosé, and on a tear for Torrontés).
Mark took some time out of his busy book tour schedule to answer a few questions about his new book, the next season of The Winemakers, and how he got started inthe wine biz.  Turns out that Mark also shares my affinity for the music of a certain long-standing Canadian power rock trio (as if I needed more reasons to like the guy at this point).
Before this intro. turns into another version of "I Love You, Man," I'll turn it over to the interview…
Enjoy!…