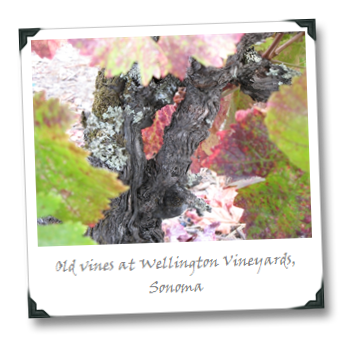 When it's cold outside, as it has been the last few weeks in the Mid-Atlantic, one craves a wine that is… warming, big, bold.  When there's a blizzard, as there was in the Mid-Atlantic not too long ago, one doesn't reach for Orvieto; one reaches for something, well, just… obnoxious.
Bone-warming wine calls for dark color, big fruit, and – most of all – hot toddy levels of booze (at least).  So naturally, one raids the zinfandel area of the sample bin. At least, that's what one does when one is 1WineDude and one has my sample bins.
What came out, though, was actually not a sample but a bottle of 2004 Zinfandel wine I'd purchased myself for $50 in Sonoma a couple of years ago, from Wellington Vineyards.
At 15.5% abv, it certainly fit the bill for "potentially obnoxious" but what really pulled me in was the fact that when the vines whose fruit eventually produced this wine were planted, St. John's in Newfoundland was on fire, St. Petersburg was incorporated in Florida, Benjamin Harrison was president of the United States, and a new small company called General Electric was founded.
The year was 1892.
Now that is some old vine 'Old Vine' Zinfandel…