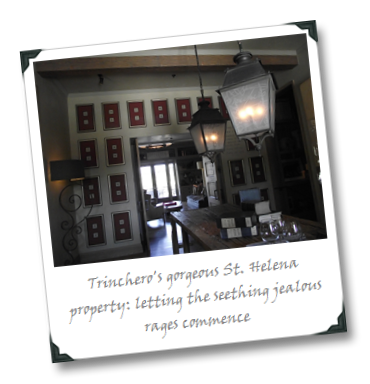 As in, almost literally going for broke, because I don't think they're actually profitable yet.  And that's just fine with the people footing the bills.  Sounds nuts but it will all make sense in minute. Or three…
What would you do if you went to work every day with almost no limitations? Tools, money, ideas – nothing really holding you back?
It's a situation to which many would instantly want to switch if given the chance, but with which almost none of us can truly identify, and most likely most of us never will.  But it's pretty much the business-as-usual case for Trinchero's young winemaker Mario Monticelli.
That's because Mario works for Bob Trinchero, who owns the Sutter Home empire and the guy whose family name has been tied to wine in some way/shape/form for over 100 years (Bob Trinchero was recently inducted into the Vintners Hall of Fame, a choice that I like to think of as a nice little reminder that while we all like to wax poetic over the tiny fine wine market, it's the Fres, Sycamore Lanes, and White Zinfandels of the world that really make this industry GO).  Interestingly, Trinchero's beautiful St. Helena winemaking property has the new-kid-on-the-block, no-expenses-spared feel despite Sutter Home having about as deep a set of historical roots in the Napa Valley as any other producer along Highway 29.
"It's a dream job," Mario told me when I visited in February. "But it also means you have no excuses!"…