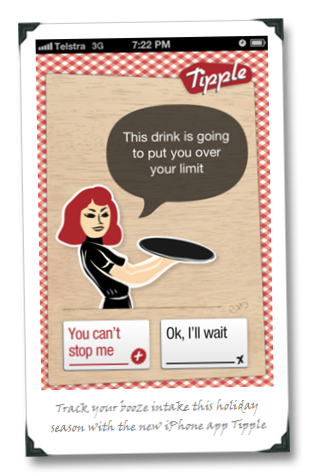 Now that you've started planning the vino you'll be popping open for the holidays, the last thing you want to do is go and spoil all the fun by drinking too much and making a fool out of yourself at your next social gathering (for example, getting drunk enough that you think using the neighbor's cat as a shot-put sounds like a good idea, or – heaven forbid – becoming the ultimate douchebag and getting behind the wheel when you've had a few too many glasses of Port… or too many glasses of anything, for that matter).
Tracking your vino consumption and keeping tabs on when you're getting too-close-to-socially-embarrassing-moments-for-comfort? Yeah, there's an app for that.
It's called Tipple and it's the brain-child of my friend, developer Sugendran Ganess (who's also a talented photographer – some of his pics have been featured on these very virtual pages). And we're giving away a coupon code for a free copy of Tipple to three lucky winners (a $0.99 value – for the app, I mean, not for you winners – you're priceless, okay?)!
I've taken Tipple for a test-spin (because I've finally been sucked into the iPhone whirlpool), and it's intuitive and fun to use – and it makes estimating your alcohol intake during an evening a virtual breeze: you tell it what you're drinking, and it calculates your booze intake compared to recommended limits. It can then warn you when you're about to go over some of those limits (and into lampshade-wearing territory, which someone surely will capture on video and post to youtube before you even have a chance to go to the bathroom).
Please notice that I did NOT say this app will tell you when you've had so much to drink that it's unsafe to drive – how about this one, lampshade man: if you're drinking, give the keys to someone else. But it is a fun way to see what your booze intake really is during the holidays for those times when you're not driving, and maybe in some small way to experience the true despair intended by Welsh poet Dylan Thomas when he said "An alcoholic is someone you don't like who drinks as much as you do."  In other words, this is an app for entertainment purposes only.
Anyway… here's how to get your chance at a free copy of Tipple so you can keep tabs on what's going on your tab…