Question: What do you get when you cross a law-school trained producer of films and commercials with a former professional mountain snowboarder?
Anyone???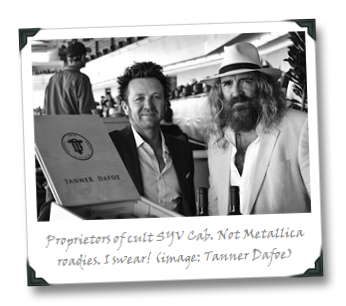 In the case of Tanner Dafoe (named after Jeff Tanner and Rob DaFoe, the producer and snowboarder, respectively), you get some fairly complete and substantial Cabernet Sauvignon priced like the California cult red that it is, only (blessedly) with more acid.
What, you didn't see that one coming?
That Tanner Dafoe can price their (very) small production wines (less than 200 cases for the most part) the way that they do (over $100 per bottle), and yet produce Santa Ynez Valley Cab so complex that the lofty price tag seems justified, is a bit of a minor miracle in the high-end CA wine world. Based on the uncorked contents of a large wooden box full of samples that I received recently from this duo, the hype surrounding their mini-cult endeavor ought to be entertained seriously, if not believed outright.
Even if the guys look like a pair of Metallica or Rolling Stones roadies (sorry, somebody had to say it… c'mon, just look at that picture!)…