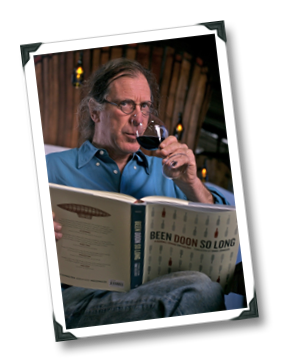 To many people, the charismatic front-man of the iconic Boony Doon wine brands, Randall Grahm, is the Mad Hatter of the wine world.
Once they read Randall's recently-released book, Been Doon So Long: A Randall Grahm Vinthology, those same people will realize that they're dead wrong.
Randall Grahm is not the wine world's Mad Hatter; Randall Grahm is the wine world's Cheshire Cat, equally (and eloquently) adept at satirizing the modern trends of the wine industry as he is at continually surprising wine consumers with quirky, excellent wines inspired by a desire to transmit the equally quirky and excellent message that California's terroir has to tell.
Been Doon So Long is, at times, a masterstroke; it's just as interesting, funny, poignant, and acerbic as any wine that California has ever had to offer.  Clearly an avid lover of literature, music, and wine, Randall Grahm has somehow managed to utilize all three as he takes us through the history of Bonny Doon, offers intimate glimpses of his personal demons, and sends up many of the wine world's most sacred cows.  If he has a mad hat, Grahm is clearly capable of pulling rabbits out of it – both when it comes to wine and when it comes to writing.
Been Doon So Long is a unique work, and while it might not be the kind of book that you'd expect from the world of wine, it's probably the book that the wine world deserves right now.  I found reading the book to be rewarding, but rather like the fabled rabbit hole, the deeper you get into it, the more difficult it becomes to fully explain.  Which is why I figured I'd let someone msarter (Randall) explain it instead.
[ Special note to the FTC: Have I received the book and Bonny Doon wines as free samples? Yep. Did that influence my review of the book? I don't think so, but I'm not a psychologist. ]
Following is an interview I conducted with Randall this week while he's in the midst of his promotional tour for Been Doon So Long.  Like the book, the interview will give you a glimpse into the rabbit hole of Randall's mind.  You'll encounter below a guy with a formidable prowess with the written word, strong opinions, a consuming passion to find a Californian wine that truly speaks of its origin, and who isn't afraid to wear his emotions in plain view.
But before you head down this rabbit hole, be sure to gather up your smarties, love of literature, an open mind, and a glass of something unique and terroir-driven.  You're gonna need 'em…