I was recently (ok, more like a month ago) Quick-Sipped (Supped?) by Jessica Yadegaran, in a profile/interview that ran online and in bay Area papers such as The San Jose Mercury News. It (very) briefly tells my wine backstory, and gave me an opportunity to implore people to drink more Vermentino (with fish tacos). So I didn't squander the opportunity, Vermentines!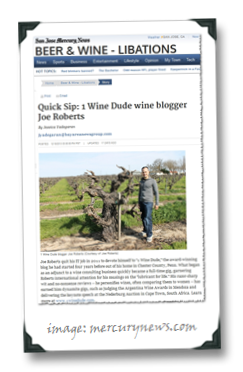 Interestingly, Mercury's parent company, Media News Group, is expanding its food and wine scene coverage, at a time when most others are contracting theirs. MNG seems to be making a play for what will almost certainly be a media gap in the San Francisco region: trendsetting the wine and food scene, now that the #1 seed, the SF Chronicle, is planning to radially change its food and beverage coverage.
I'm not sure how else to take the comments from SF Chron managing editor Audrey Cooper, in her response to the NY Times breaking the news late last year on the SF Chron's planned Wine/Food section shakeup:
"We are undergoing a newspaperwide section-by-section review with the idea that we need to reimagine sections to more intuitive cultural topics that are more aligned with how Northern Californians think and live."
My translation: we're not going to spend the money and effort to set regional dining and wine trends anymore, because it's not working out; we're going to react to the trends already being set by others, instead.