As you know… I live in Tuscaaaaaaaaaaaaaany…
Oh, wait, that's some other guy who critiques wines and makes videos.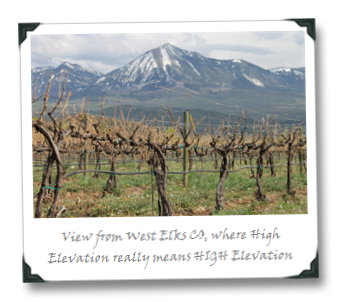 Let's try this again… As some of you know, I was in Colorado recently, touring the Western Slopes wine regions of Grand Valley and (the really high elevation of) West Elks, and finishing up by attending Drink Local Wine 2012 in Denver, courtesy of the Colorado Wine Industry Development Board.
During DLW 2012, one of the panels, titled "Local Food, Local Wine, and Why They Don't Like Each Other" (manned by Dave McIntyre of the Washington Post and co-founder of DrinkLocalWine.com; Rene Chazottes from Pacific Club in Newport Beach; Evan Faber of Salt in Boulder; and Jensen Cummings from the stellar Row 14 in downtown Denver), explored the sometimes rocky relationship between local wines and local restaurants – namely exploring the open question (I'm paraphrasing here):
"Why don't more local restaurants stock local wines, when they almost always stock local produce without much hesitation?"
This was a discussion I found timely and poignant, seeing only a day earlier how tightly Western Slopes business like the rugged-turned-luxury (and stellar) Smith Fork Ranch incorporate their local wine producers into their wine lists and menus.
Answers varied, but there was no shortage of heated debate about whether or not local restaurants should or should not be stacking the deck in favor of local wines. To understand why this isn't such a no-brainer, I think we need to first look at local restaurants as not actually being that local…