I, along with a small cadre of other wine media peeps, recently got invited to one of those on-line Q&A / sample tasting thangs highlighting recent releases from high-end Napa Valley producer Hourglass (so named due to the shape of their vineyard holdings, which form part of the narrowest spots in the North-South winegrowing continuum that makes up the Valley).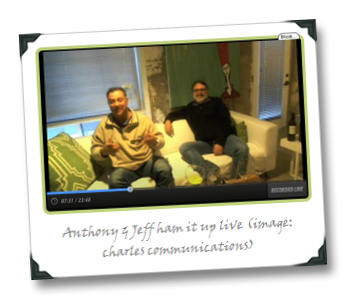 Hourglass founder and Napa native Jeff Smith is a bit of a friend, and it took me a lot of prodding over dinner last year to get him to talk for even brief periods about happenings at Hourglass (and spill the beans that he would be parting ways with longtime consulting winemaker Robert Foley, and bringing on Cade / Plumpjack alumnus Anthony Biagi).
I figured that I owed Jeff one from that dinner, and hadn't done an on-line tasting in a while, so I thought, "what the hell, send me the half-bottle samples and let's do this." Of course, it's always fun to watch winemakers and proprietors that you know personally grapple with the uncomfortable scenario of being left alone to fend for themselves live on camera (in this case, they fared pretty well, actually). And at the very least, I figured it would be a chance to see what Biagi did with the blends, and get a feel for how much negative impact the touted-as-epically-horrendous 2010 Napa vintage actually had.
If the 2010 Hourglass releases are any indication, turns out the answer to the question of how much gloom-and-doom is to be expected from Napa's 2010 vintage is "not that much…"