Everybody knows that I "love" the Pennsylvania Liquor Control Board [ Editor's note: this is a boldfaced lie; I think the PLCB acts like a Communist monopoly and therefore I actually hate the PLCB ].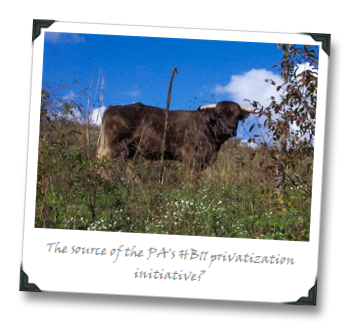 At least, I loved the recent move by Governor Tom Corbett to appoint Joseph "Skip" Brion (that's his real nickname, by the way) the new PLCB Chairman, since both Corbett and Brion appear to be in favor of privatizing the state Commonwealth's monopoly alcohol sales system – and they're supporting House Bill eleven (HB11) which seeks to amend the existing Liquor Code "providing for the privatization of sales of wine and spirits in this Commonwealth through abolition of the State Liquor Stores."
But as much as I'd love to see privatization take hold and the free market rein when it comes to alcohol sales in my home state Commonwealth, it's become clear to me that, technically speaking, HB11 is actually not in the best interests of PA's wine-consuming public; I would describe HB11 as Bull Honkey. As in, a big, stinking, steaming load of Bull Honkey.
Why?  Two reasons, my vino-loving friends, neither of which portends any favorable outcomes from HB11 when it comes to actually letting the free market into the ring of PA's liquor sales and distribution…