Last week, I had the pleasure of taking part in a Google+ video hangout chat hosted by Master Sommelier (and general dynamo/spitfire) Andrea Immer Robinson. Andrea asked me to participate in the hangout as part of select group to taste through wines that she had picked for the in-flight business class selection one of Delta Airlines' cross-country routes (apparently I'm to get a free trip on that route as part of the deal to test the wines in flight myself, so this was a promotional chat sponsored by Delta).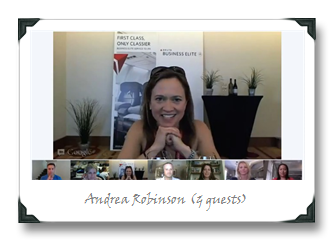 More on Andrea's picks in a minute; first, I want to talk about something that Andrea brought up in the context of the hangout discussion (a video recap of which you can watch below after the jump). That event got my wine brain juices flowing, and not only because I was treading water, trying not to look like a complete hack in front of a group of mostly Master Somms, many of whom have individual taste buds on their tongues with more collective wine tasting experience than I possess.
What intrigued me was something that Andrea mentioned about plane travel that impacted her choices of wines to include for the biz class long-haul journey: we (as in all of us, not just those banished to coach class) taste food differently in-flight versus when we're on terra firma.
Specifically, she wanted to pick wines that had big aromatic, textural, and flavor profiles because wines and food taste duller in the air. At first I thought that Andrea was just going on common sense borne from personal experience (she flies the routes to taste how the potential wine picks fare in-flight), but it turns out there's some potentially solid science behind that approach. And I care because, like probably many of you reading this, I'm a wine lover who's also put in a butt-numbing amount of miles and hours sitting in an airplane seat this year…