We wine geeks review wines in all manner of differing ways.  There's nearly as much variety in those review systems as there are in wine styles.  Points.  Stars.  In my case, grades and badges.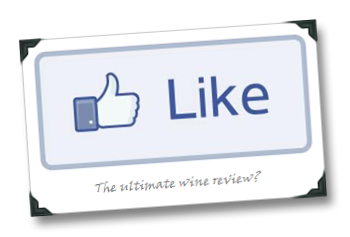 And we're social about it, too – CellarTracker.com is pretty much the world's largest wine review repository at this point (closing in on 2 million reviews at the time of this post), and for the most part it's populated with ratings penned by people who are not professional wine critics; they just want to catalog – and share – their thoughts on their encounters with world's most awesome beverage.
Seems to me the most social and dead-simplest wine review, though – one that even makes 140-character twitter reviews seem overly-verbose by comparison – would be the Like button.
Yes, I'm serious.  I think.
Of course, I'm talking about the thing that publicly alerts other Facebook users to the fact that enjoyed a post/status/photo/brand/etc. It might actually be more accurate to say that the Like button click means that you took a few seconds out of your busy day to tap on a button because other people also clicked on it, but that's not the Like button's fault (it's more human nature's fault).  You can lump Google's recent foray into the social approval space – the +1 button – into the same camp, and feel free to use that interchangeably here whenever I mention the Like button (the concepts are, from what I can discern, pretty much identical – let people know publicly what you like in a social setting on-line). And the concept is now ubiquitous on the 'global interwebs': even blog comment systems have them for individual comments.  The Like button also refers people who buy, and when it does they buy more stuff. Only a matter of time before it takes over the wine world, right?
No points, ratings, or even words.  You dig the wine, you +1 it; you enjoy sipping that vino, you 'Like' it.  Done and dusted, end of discussion.
Or is it?…