The irrepressible Tom Johnson reported recently  on Louisville Juice that according to the CDC drunk driving in the U.S. continues its steep decline – to the tune of a 30% drop in self-reported annual drinking and driving episodes since 2006.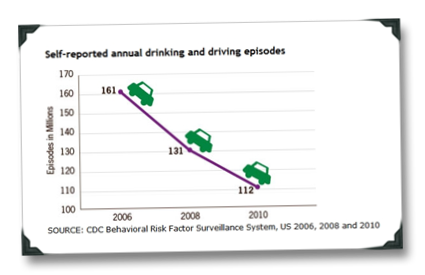 Tom goes on to say that "fatalities related to drinking and driving have dropped nearly 70% since 1982, from 26,000 to 11,000."
Your first reaction to all of that good news (and it is very good news – because also according to the CDC, "car crashes are the leading cause of death for everyone ages 5-34 and that 1 in 3 crash deaths involves a drunk driver" – so any drop in drunk driving equates to a potentially significant reduction in preventable fatalities), like mine, was probably "holy crap, that's awesome!"
But… it's not quite time just yet to pop the bubbly in celebration (assuming of course that you've got a designated driver if not popping those corks in the safety of your own home!). As someone who often has to drive myself to and from functions where alcohol is involved (in the function, that is, not in the driving!), I'm the kind of guy who often pays particular attention to trying to do whatever I can to prevent tragic alcohol-related disasters. Rule the first at wine events: SPIT (and gently admonish organizers if they don't provide spit cups or buckets)!
And while we've come a long way, baby, in terms of one of those tragic disasters (drunk driving), we've also got a long way to go, baby…