A year later, and Mosel Riesling is still kicking ass. Only it took a blind tasting held in the Finger Lakes to remind me of that.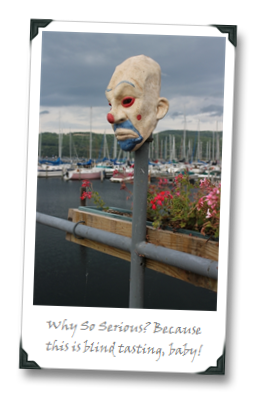 Back in August, I was asked to participate in a sensory analysis panel in Watkins Glen (Finger Lakes wine country, that is) related to a mobile wine app that has yet to hit the market. I am under a NDA, and so there's actually not much I can tell you specifically about the event apart from the fact that I was paid for my work, and the relatively large panel also included oenologists, other bloggers like Vinesleuth, a few Finger Lakes winemakers, and some heavy-hitters in the wine judging circuit who I've admired for some time (it was a real trip meeting those folks). Also, the weather was f*cking incredible, which helped since my toddler daughter insisted on climbing all over the rocks of the jetty behind the Watkins Glen Harbor Hotel, which I think might have given me a few (mild) heart attacks.
The blind analysis did not include FLX wines, though I did manage to sneak in a (non-blind) tasting of a some recent Fox Run Vineyards releases with winemakers Peter Bell and Tricia Renshaw. That was a trip highlight for me; their wines continue to improve at a dramatic rate, and they have some very interesting things going on in their 2010 and 2011 Rieslings.
It's a shame that there weren't any FLX wines in the lineup, because the wines that I tasted blind over the few days of that sensory eval were, on the whole, not-so-hot. I'd have welcomed a few FLX stalwarts in those glasses, believe me. And once I figured out that we were tasting the wine flights in duplicate, I started to cringe… "Oh sh*t… this means I'm gonna have to taste through that funky-ass, over-oaked, buttery Syrah flight again!"  Let's just say it was good I was getting paid, otherwise I'd have been tempted to skip out to the jetty with my daughter.
A few notable exceptions did crop up through those flights, and I noted one particular white wine that tasted familiar to me, and was clearly a full head-and-shoulders quality level above the rest of the pack of dozens and dozens of budget-priced wines that we tasted (and I'm talking Kevin-Garnett-standing-next-to-me sized head-and-shoulders height difference, here)…