It's not often that a wine guy avoids a wine region by choice.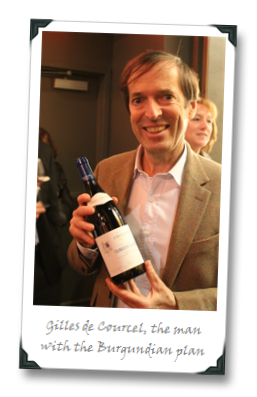 Yet that's more-or-less where I've found myself when it comes to France's Burgundy, home of both ethereally-exquisite, mind-blowingly-good wines and overpriced, cabbage-in-the-bathwater bad swill, with little to guide the consumer from choosing one over the other apart from painstakingly acquired detailed knowledge of the region's négociants… and we've all go those guys' details committed firmly to memory, right?!??
Ahem…
And so, when you get invited to a vintage tasting in NYC for a Burgundian producer with whom you have no prior experience, even as a critic-of-sorts you steel yourself for what is surely to be the inevitable dropping of the other shoe; as in, having to taste wines that smell like the other shoe dipped in someone's droppings.
And then, when you're not only pleasantly surprised by the outcome – as I was at Blue Fin last week, after going through the 2009 lineup from Père & Fils' Domaine Chanson – you're practically blown away… Well, then you have to endure the odd-paired painful pleasure of watching your personal assessment of both that producer's abilities and your own douchebag rating simultaneously skyrocket. [ Editor's note: This pain was salved slightly by the fact that Père & Fils' was pouring bubbly from Champagne producer Bollinger, which they also own, and which I can now tell you from personal experience washes down the taste of crow with elegant, floral appeal. ]
Much of Domaine Chanson's rise to within-spitting-distance of Burgundy's upper-echelon (and therefore arguably the wine world's upper-echelon) can be attributed to the hard work of its President, Gilles de Courcel – an amicable guy with thinning brown hair, a quick smile and eyes that light up when he gets a chance to exercise his borderline-obsessive passion for describing the tiny geography from which Chanson's top-tier, tiny production Grand Cru wines originate…