And you thought I was already there, didn't you? About being a cretin, I mean.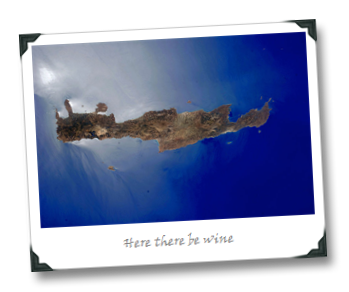 This week, I head out (yes, again) on the road, this time bound for the Greek island of Crete, a trip that's been in the making in some way/shape/form with www.allaboutgreekwine.com since 2010 (we last discussed it when I visited with them in Santorini almost precisely two years ago).
The interesting thing about this trip, in the Going Pro side of things, is that in some ways I'm "on assignment," having preliminarily agreed with Sommelier Journal to pen a regional overview piece on Crete for their 2013 publication schedule.
I am hoping in no small part that my eventual appearance in a wine glossy will show that I'm not anti-wine-glossy (though I am anti-douchebaggery) and will help to temper what seems to be unhealthily strong reactions from other wine glossy staff whenever I mention the words "wine glossy" on these virtual pages, to the point where the critical mention significantly outshines the actual focus of the article (hey, weren't we talking about somebody's wine here, anyway?). The message, I think, being twofold:…