Pro wine writers are among the most full of sh*t professions (statistically); so saith Cracked.com, where "Wine Tasters" make their recent list of The 6 Most Statistically Full of Sh*t Professions.
There are two things that surprised me when perusing the list of chosen six:
Weather Forecasters, while predictably ranking high on the list, came in at #2 (Sportswriting took the 'top' spot).
Wine Tasters came in only at #5 (c'mon… can't we do better than that?!??).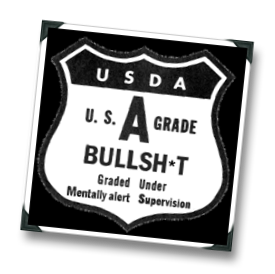 Frankly, despite the lack of actual statistics in the article, I'd say that we (speaking collectively for the larger wine writing lot) actually deserve the dubious ranking.
Well, sort of.
As the reaction to my recent interview with Robin Goldstein (author of The Wine Trials, which showcases budget wines that beat out more expensive options in blind tastings) showed, the wine tasting devil is squarely in the details.  And as a group, I think that wine writers / tasters / pros, generally do a crap job when it comes to helping the public understand those details.
Not that this is a new phenomenon.  Thom Shaw once wrote "in wine tasting and wine talk there is an enormous amount of humbug."  If you substitute "bullshit" for "humbug" you'd probably get an accurate read on the perception of wine tasting, right?
Well, ol' Thom wrote that back in 1863.  Nearly 150 years later, it still rings as true and cuts as close to the bone of a wine writer as a Dilbert strip does to a cubicle worker – funny, but painfully funny.
So maybe we have helped to make the crow sandwich we're supposedly having for lunch (hmmm… what pairs with crow… think I'll pop open some Retsina…)…