The best way to introduce you to Cathy Corison, I think, is by telling you what happened when I said goodbye to her.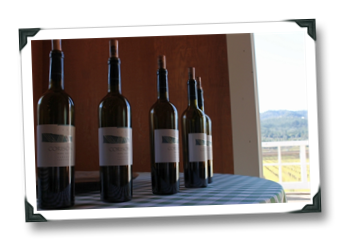 I was making my way out of her Route 29 winery building in St. Helena, having just wrapped up a short bit of video for Wines.com with the diminutive (even by my modest vertical viewpoint), soft-spoken, but not-to-be-trifled with winemaker (example: during a retrospective tasting over lunch, one of the things she told me was "the word 'No' is, in fact, a complete sentence"). We seemed to be waiting for the least-awkward moment, an opening for my exit (if that makes sense), when Cathy began… gardening.
She semi-nervously began picking out dead plants from a colorful bunch of small flowers planted atop barrels in the entranceway to the winery. I am familiar with this sort of habitual behavior, tidying up, constantly feeling as though you have to do something; she didn't know it but I silently bonded with a small part of her psyche at that moment. Since I can't stand even nanoseconds of silence, I stoked up a lead-in to a goodbye conversation.
"See you tomorrow at Premiere?" I asked.

"No, I won't be pouring," she answered, then stopped tending the flowers and looked up at me, squinting in the sun through her schoolmarm glasses. "Galloni is coming to taste tomorrow."
That's Antonio Galloni, who has taken over the CA wine reviewing beat from Robert Parker at The Wine Advocate. To briefly summarize why that might have gotten Cathy into flower-weeding mode, I'll refer you to this statement from NYC's California Wine Merchants: "Robert Parker has not published ratings on [Corison's] wines since 1995, and really never awarded them with scores above the low 90s anyway."
"Oh," I said. "Does that make you nervous?"

"Do you know my history with Robert Parker scores?" she countered.

"Cathy… I don't really know anybody's history with anyone's scores" I replied.

"Well, bless you for that!"
And so it goes with Corison, both a matriarch and a wine that, when you start peeling back some of the layers, reveal a series of contrasts: a winemaker not courting high scores but hosting critics and garnering a boatload of acclaim; an anachronistic woman making anachronistic wine, one that is produced in modern ways but with nods to the ancient past (the artistic busted-pottery artwork adorning the labels wasn't put there without some forethought, I gathered); and someone who came into winemaking "old school" but now is totally killing it with her customers on twitter (more of that coming up soon on the Wines.com blog) and recently hired wine media maven Hardy Wallace…