At this point, I think we can agree that Sonoma winemaker Ross Cobb now owes me some money.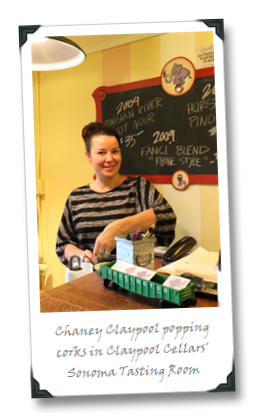 Certainly I've reviewed and featured a few of his wines here, with quite favorable results – though that's not, of course, why I think he should be paying me (really, we've had enough of that alleged behavior lately, haven't we?).
No, I think he owes me money because I might have helped seal the deal on his latest gig. Finder's fee? C'mon, a little slice off the top of that is kind of standard business practice, right?!??
[ Editor's note: I do not actually think that this guy owes me money. ]
In all seriousness, I've been covering the recent trajectory of both Ross' wines and those of his latest consulting client, Sonoma's Claypool Cellars – so I'm happy to report that the two are now working together.
During my recent jaunt to Sonoma, I spent a few hours with Chaney Smith Claypool, wife of rocker Les Claypool and the driving force behind their up-and-coming wine venture. The Claypool Cellars wines are quite solid, and very good (in the case of their 2009 Hurst Vineyard "Purple Pachyderm" Pinot, very, very good), and what's in barrel for their Russian River Valley Pinot Noir is already tasty and sporting a ton of exciting spicy, bright-fruited potential.
Despite the laid-back, bohemian carnival atmosphere of their brand, they make serious juice – and Chaney is serious about taking Claypool Cellars to the next level. One thing she told me stuck with me several days later: "I want a legacy that we can give to the kids… if they'll take it!" This is coming from someone who's tasting room is a caboose train car, by the way…