Bart Araujo is an intense man.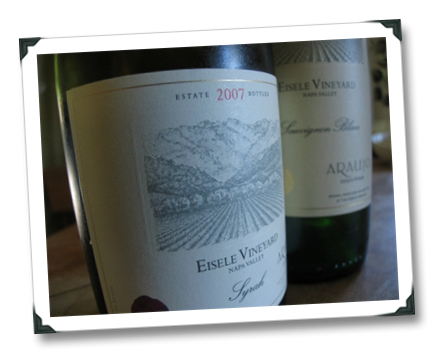 It's obvious when you meet him, if you're paying enough attention.  And you'd have plenty of opportunity to pay attention during a visit to his Araujo estate, which for me began not in the vineyard, but in the winery's offices.  We were standing in front of empty bottles of some of the best wines that this Calistoga property – the Eisele vineyard – has ever produced (some of which were made in basements during the `70s and `80s by dedicated hobbyists, and are obscure enough bottlings that you've likely never heard of them, even if you consider yourself a fervent wine geek.
Bart gave the same treatment to Jon Bonne recently, so I'm pretty sure that the brief history lesson in the final products from Eisele vineyard is S.O.P. for visiting press at Araujo.
The message?  Context is everything.
One might, at first meeting, take Bart to be a bit too serious, which would be slightly off-the-mark.  He jokes (albeit dryly).  He smiles.  He offers his time generously.  But he is definitely… focused.  "You have to reach for perfection," he told me.  "Of course, you'll never quite achieve it, but aiming lower means sacrificing something.  Otherwise, you might as well be making Coca-Cola." 
Given his obvious pride in the history of Araujo, including its wines and the heritage of its impeccably maintained Calistoga vineyard, one might also mistake Bart Araujo as smug.  While his demeanor has been described by one Calistoga wine insider as possessing a good deal of the "Yes, I did" factor, that too is misleading – it would be more accurate to say that Bart Araujo's demeanor reflects his knowledge of what the Eisele vineyard is capable of producing when it comes to fine wine.  Which is to say, some of the best wines produced in all of the Napa Valley – putting them in the running for some of the best wines in the world.
"Yes, It did" is what Bart's demeanor is actually saying.
Why are we spending so much time on Araujo's proprietor?  Because in this case, context really is everything, and to understand Araujo's wines, you need to get inside Bart Araujo's head, just a little.  He is far from a distant figure of a landlord: he still helps to make the call on the final blend, and is familiar with even intimate details about what is happening in their biodynamic vineyards.  Saying that Bart is involved in the production of Araujo's wines is a bit like saying that Argentinosaurus was a slightly oversized dinosaur.
Or, put another way, it's like saying that it was mildly surprising to the Araujo team when their 2007 estate Cabernet Sauvignon was given a 90-92 rating in The Wine Advocate…