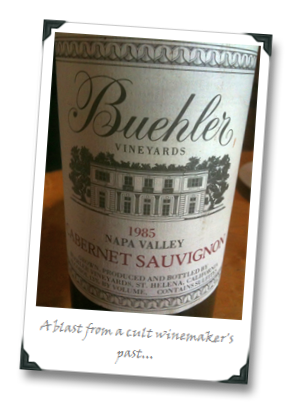 In the world of winemakers, Heidi Peterson Barrett is a household name, and not just because she shares a last name with her husband, who founded the only winery that can rightfully claim to be a full-fledged movie star.
That Heidi Barrett is a household name, a winemaker's winemaker, can be attributed to two words: Screaming Eagle – Napa's Cult Cab among Cult Cabs, manifest in concentrated style, produced in small quantities and regularly fetching over $1000 per bottle.
Those slugging back bottles of SE in the comfort of the temperature-controlled cellars inside their custom yachts probably don't know that Heidi Barrett landed her first head winemaking job back in 1983, when at the young age of 25 (now that I'm nearly forty, I can call 25-year-olds "young") she was hired by St Helena's Buehler Vineyards (for more on Buehler, check out my interview with owner John Buehler's daughter Helen, who now looks after their Social Media and Sales).
So when I was invited to talk shop over lunch by long-time wine biz veteran (and very nice guy) Bob Trimble, I was intrigued by the selection he picked to help us wash down our meal – Buehler's Napa Cabernet Sauvignon from 1985 – since it was not only a glimpse into Napa Cab's past, and into Buehler's past, but also an opportunity to turn back the clock on Barrett's (now storied, but then just promising) career…