"Lento y fuerte."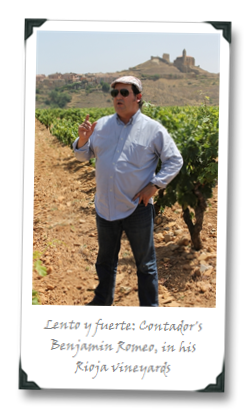 This is how Benjamin Romeo – possibly Rioja's most celebrated modern winemaker since his 2004 Contador red wine received a 100 point score from The Wine Advocate – described how he speaks.
Measured and forceful.
Which, it turns out, is a perfect descriptor for most of Romeo's wines, as well as for his general approach to life.
To wit: when I met him at the delivery area of his state-of-the-art winery in San Vicente de la Sonsierra, Bodega Contador, there was very little in the way of introduction, and literally nothing in the way of ascertaining what my group wanted to get out of our visit.
"Mira, mira," he said, "es el plan," while then launching into a description of what we'd be doing that day together. We would be touring his vineyards, hilltop church bell tower cellar, then back to the winery. Romeo even dictated when and where we'd be taking photos during the tour.
My Spanish isn't great, but I garnered three things about Benjamin Romeo during our meeting: he curses (a lot – for example, roughly translated on the 2010 vintage: "2010 is f*cking incredible… it's the bomb… the sh*t!… they're very thick…"); he is fiercely proud of his wines (to the point where he seems to have trouble understanding why anyone wouldn't like them); and he packs those wines with so much bombastic, hedonistic flavor that they're just about bottled reflections of the man himself and are almost guaranteed to be… divisive…