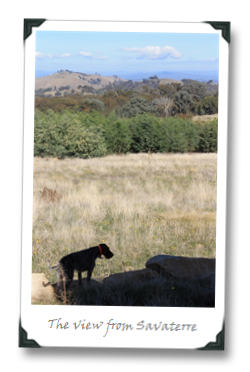 It's a brilliantly sunny day in Beechworth, a rural (even by Aussie wine region standards) area in eastern Victoria that sits just south of Rutherglen. The region was made famous by Giaconda, whose premium Chardonnays are in such high demand that they're now offered en primeur.
But I'm not here to see Giaconda (okay, that mostly had to do with the fact that it was closed when I visited). I'm across the street, where Keppell Smith has set up shop for his Savaterre brand – and at seventeen years running, he's just gotten around to building a modern winemaking facility. This is the other side of Oz, where handfuls of tiny producers are setting up garage-style winemaking efforts, using natural cork, and otherwise eschewing the penchants of ginormous Aussie wine conglomerates' for squeaky-clean, screw-capped, and what many wine geeks often criticize as characterless wines.
Smith comments on what he's trying to avoid, and his words, I come to learn later, more-or-less sum up the approach of producers throughout Beechworth: "Fuck me dead! There's nothing worse than a 'so what' wine!"
Ask Smith why he chose this spot to plant grapes, and his answer, similarly, will tell you everything; only this time, it's everything about his approach to winemaking (and, I gathered, to life itself – Smith seems incapable of hiding his true feelings about anything… even by Aussie transparency standards).
"Because of this," he says, picking up a handful of brownish, unforgiving, decomposed granite. "Because of this shitty, shitty, crappy, shitty soil!"…