…This.
No, I'm not kidding.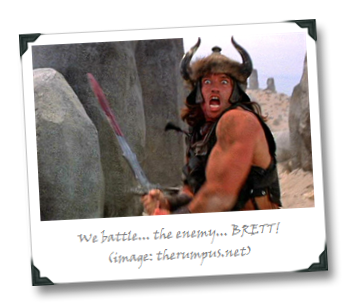 The fact that the Australian Wine Research Institute researches have sequenced the Brettanomyces genome is, potentially, the single most important piece of news to hit the wine world since it was discovered that malolactic fermentation could be controlled. In terms of newsworthy impact, it makes Scarecrow's busting of the Premiere Napa Valley auction record look like the equivalent of your regional free paper running a headline like "Local Youth Paves Driveways." And for me, it makes the recent Pancho Campo/JayMiller/Wine Advocate pay-for-play tasting controversy taste like small beer.
For those wondering what the hell I'm on about here, last week I was sent a link to a Decanter.com article titled "'The enemy' at bay: scientists crack brett gene code" by a fiend via email (the subject line: "Finally, some good news! What will Bobby P. do??").
The story, in a nutshell, is that Brettanomyces – the spoilage yeast responsible for creating aromas in wine that range from a hint of smoky meat to horse sweat to downright pungent, mousy-barnyard-droppings-wrapped-in-Band-Aids – has had its genetic code cracked by a team of intrepid Aussie-based scientists.
Why the big deal? Because it means the wine world is closer than ever to finding a way to control Brett yeasts – and until that day comes, I stand fast in my resolve when I tell you that Brett is not terroir, and is not really an element of added complexity; it is a flaw (and if someone's wine happens to have the relatively inoffensive meaty kind of Brett, they're not necessarily uber-talented winemakers or viticulturists adding a dash of complexity to their final product; odds are they're just lucky)…