Back in February, I spent a handful of days in the charmingly-imposing Italian town of Montefalco, as the U.S. media guest attending the anteprima showing of Sagrantino's somewhat-troubled 2014 vintage.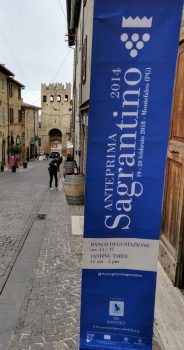 Generally, the way that these things work is that we press-types get to sit around in beautiful locales tasting (and pontificating upon) the latest – and usually not-so-latest – vintages of a region, when we're not attending dinners or visiting nearby producers, I mean. Just another day at the office…
After highlighting a handful of producers from that visit, I thought that I would wrap up the Sagrantino-related coverage here by sharing some of what I found to be among the more interesting wines that I encountered on that anteprima trip. Some of these wines will, in true 1WD form, be nigh-impossible to find, though most won't; but think of this less as the brain-dump of tasting notes that it is, and more of an enthusiastic recommendation of some of Montefalco's best producers.
Now that we've gotten that out of the way, I have what feels like ten billion wines to tell you about; and so, let's get it started in here while the base keep runnin' runnin', and runnin' runnin'…