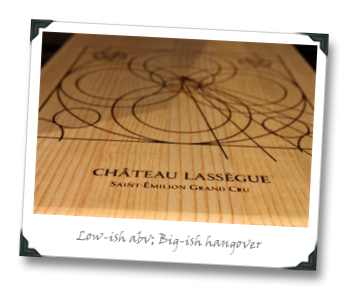 If you are under any delusions about lower (under 14% abv) alcohol wines being inherently superior to higher (15% abv and above) alcohol wines, let my recent foray into the lonesome and loathsome territory of sweating profusely from dehydration and feeling nauseous in the middle of the night be a beacon of light guiding you to the truth.
That truth being the fact that wines that clock in at sub-14% abv can also be just as totally unbalanced as 15%+ monsters, and over-consumption of them in good company (followed by glasses of Ouzo) will still do a fine job at getting you sh*t-faced and hung-over. I mean like sweating sheets/buckets hung-over, folks.
Just sayin'. I meant it when I said that the wine alcohol debate was a total red herring that tells us nothing significant or predictive about overall wine quality, balance, potential longevity or getting-you-sh*t-faced potential.
Anyway…
I hereby submit to you three wines from the sample piles to you as evidence of the above, as each is well under 14% abv and delicious (and balanced) enough to promote abundant and quick over-consumption, particularly when imbibed in the presence of great friends like our Greek neighbors (for more on the drinking exploits with those fine folks, see Parts I and Part II)…