As I write this, I am dutifully heads down in the process of remaining woefully behind on the coverage I have planned for these virtual pages (a deep dive into some high-end Knights Valley action is currently simmering on that back-burner). Which I suppose will come as a surprise to exactly zero of the long-time readers here.
I am also, as I type this, fresh from delivering a talk at the 2015 DIAM Wine Conversations sessions in Petaluma and Portland, in the form of a presentation outlining why no one "needs" to buy the producer attendees' wines (and how they might get some of their potential consumers interested anyway). That my talk was replete with "tuff luv" for the industry folks in the audience will also come as a total shocker to, I'm guessing, precisely none of those who are reading this.
Silver linings tempered the dark clouds of my tuff luv messages, however, in the form of the lineup of wines chosen by organizer Evan Goldstein for the blind tasting portion of the seminars. The common denominator (apart from them all consisting primarily of water, I mean) being that each of the chosen wines were closed with DIAM technical corks (also, given the event sponsorship, not a shocker).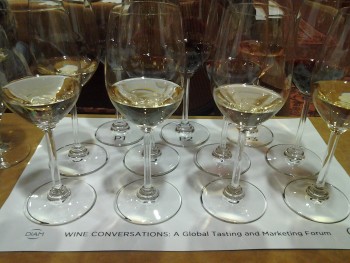 Now, I'm not stumping for DIAM here, but as I mentioned during the seminar, in general I'm a fan of DIAM, in that I'm a fan of anything that lights a fire under the ass of the natural cork industry. Look at it this way: if staples such as milk or peanut butter had similar failure/contamination rates as wines sealed with natural cork, there'd be Walmarts in the Midwest getting stormed by angry, pitchfork-wielding mobs and engulfed in flames. No one would accept failure rates that high in other food products.
Anyway… All of the wines were also pretty damn interesting, in my not-so-humble opinion, as Evan characteristically went with some geeky surprises (including Okanagan Pinot Noir, Rivesaltes, and a single-vineyard California Viognier). Much entertaining stumping of the crowd (this participant included) thus ensued, and I don't think that, given the quality of what we were testing, any of us would've cared if those wines had been sealed with natural cork, technical cork, or mud and cow dung.
One of the wines in the blind tasting lineup stood out as the clear ringer, however, and it's the focus of our little virtual gathering of thirsty like minds today…