Today, I could be writing any number of travel-related wine pieces from the large number of jaunts I took in the first three quarters of 2012 (how large is that number? let's just say I've had to visit the doctor to treat complications from my ass having spent so much time sitting in airplane seats).
But I'm not going to do that. Not today. Those stories can wait.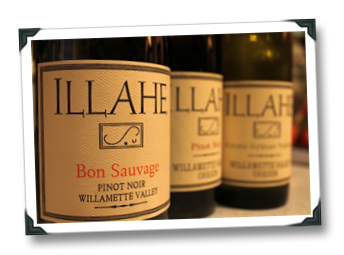 Instead, I'm going to put my money where my mouth is, and give some long-overdue attention back to a long-time friend of 1WD. Of course, if his wine sucked he wouldn't be getting the attention here; but it doesn't, so he will.
Gabe Jagle is a long-time commenter on these virtual pages, often adding insightful points and taking the conversation in the comments field into fascinating wine geek territory, areas that we might not otherwise have explored even on posts that see dozens of interesting comments. Gabe doesn't just do that here – he also does it on several other wine blogs, and he generally seems to enjoy the geeky discourse. In fact, he's prolific enough and so imbued with the power wine-geeky that it was several months in to our blogger/commenter relationship before I even knew that he was an assistant winemaker to Brad Ford at a small Oregon producer, Illahe Vineyards in the Willamette Valley.
That genuine love for the grape and for its discourse is what lead me to finally meet Gabe in "real" life earlier this year, after the 2012 Wine Bloggers Conference in Portland. Gabe is a likeable guy, mild-mannered and with a lanky appearance that to city-slickers like me just screams "Pacific NW Farmer" – kind of Shaggy meets lumberjack (he's probably going to hate that, but it's the best I could come up with between writing interruptions from my toddler daughter).
I was interested enough in Illahe's wines after tasting one of the Pinots during my Portland visit that Gabe and I loosely agreed to try to get me samples, which arrived recently. And while they're not going to set any concentration-loving palates on their ears, those Illahe wines are in possession of a quality that seems to come along rarely in wines these days: authenticity…