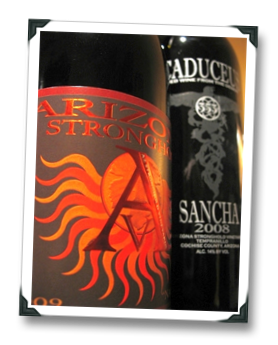 I know this end-of-week segment has tentatively been reserved for wines of the week, but so far I've featured wines not actually reviewed during the week in question, and in this case I'm giving a badge to just one wine and not multiple wines… so let's just agree that some re-branding might be in order, ok?
The thing is, I keep encountering cool and interesting wine shiz that I want to share, like last week's T.A.S.T.E. mini-bottle craze and the wines of Paul Dolan, so let's also just agree that we've started an anti-segment and get on with it, ok?  Ok!  Excellent!
Now that we have that out of the way, let's talk Arizona.  As in, Yes, Arizona is making wine, just like the rest of the states in the U.S.
Of course, when you tell someone that you just tasted some (samples of) AZ wine, and just watched a (review copy) of the film Blood Into Wine (which chronicles in vastly-entertaining-but-sometimes-too-advertisement-like-fashion the work of rocker Maynard James Keenan and winemaker Eric Glomski to put AZ on the fine wine map), invariably this is the response that you will get:
"Maynard Keenan? Isn't that the dude from Tool and Puscifer? Arizona makes wine?  WTF?"
At least, that's been my experience.
Based on the similar befuddled reactions of my friends, I can only imagine what the AZ wine industry has to endure every day when asked about their efforts to bring fine wine recognition to the state. My guess is that Napa makes fun of them, all isn't-that-cute-little-brother style, like the way that we treat Canada most of the time. As my friend Alder Yarrow said during his cameo in Blood Into Wine (paraphrased): I taste a sh*tload of wines every year "and 99.9% of them are not from Arizona."
Based on what Glomski and Keenan are doing, however, I am wondering if that situation may change in the not-too-distant future…