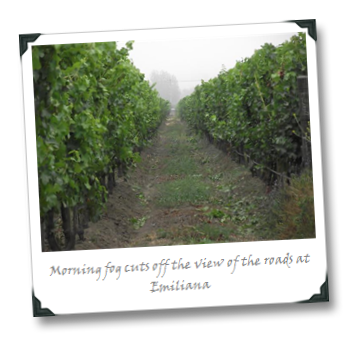 In the morning fog of Casablanca, a stone's-throw from Santiago, Chile – provided that you could throw that stone over the enormous mountain range that divides Casablanca and the city, that is – the world feels very, very small. At least, it did to me on my recent S. American jaunt.
The world feels small despite the fact that those fog-covered vineyards (cooled by the effects of the mountains, which dramaticly reduce the amount of sunlight and heat compared to the city) are owned by Emiliana, a company that collectively farms the largest source of estate-grown organic wines in the world. It felt small despite the scale of how "all-in" Emiliana is when it comes to organic viticulture.
Part of the cozy feel comes from Emiliana's Casablanca estate itself: home to wandering birds (especially the chickens, who eat the larvae of what are locally called "burrito spiders" but I took to be mites, who can damage vine roots), and alpaca (whose wool is sold by the vineyard workers). Part of the feel also comes from how the workers are treated here – they are trained and then help manufacture olive oils, hats, and various other native crafts that are sold in the off-season to help maintain their income when not working the vineyards (many of them also have named plots in the organic gardens near the vineyards, which helps supply them with healthy food).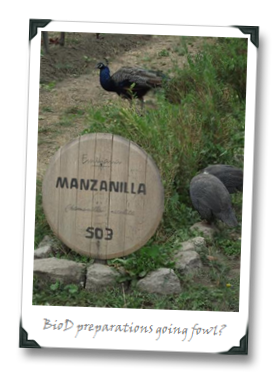 But mostly the world felt small to me in Emiliana because they kept talking about Biodynamics, a topic that got very hot recently here on the virtual pages of 1WD. And they kept calling it… wait for it… the "science of Biodynamics."
I can feel the collective shoulder-tightening ire of the wine geeks reading that last sentence.
And where did Emiliana get the BioD bug? From a visit by consulting winemaker Álvaro Espinoza Durán to Sonoma's Benziger, where I visited in the not-too-distant past, and talked BioD with head honcho and BioD cheerleader Mike Benziger – and then interviewed BioD viticultural consultant Alan York (whose clients include Benziger and rocker Sting) as part of a more in-depth pro/con BioD debate.
And to further the far-away-but-close-to-home experience, I found the vinous results of this Biodynamic work to be pretty similar to those I've encountered elsewhere in the wine world… namely, inconsistent…