Seventh Lombardi trophy, that is.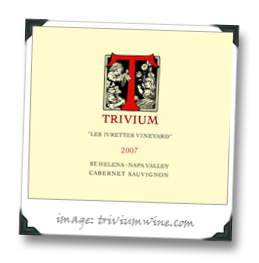 See, I've been a Steelers fan for over 30 years, which places the activity in rare company when it comes to my lifetime activities, bested only by things such as breathing, sleeping and enjoying birthday cake.  And for those of you sick of hearing about my NFL alliances (basically everyone but me), I offer this tidbit only as backdrop to a duo of 2007 California wine recommendations, so don't get your jock straps into too much of a bunch just yet.
When the Steelers won their sixth championship title I was writing a piece about a Napa Valley wine while watching the game bleary-eyed in the middle of the night GMT in England.  This year, I'll be in Portugal (more on that next week) watching the Superbowl bleary-eyed in the middle of the night GMT.  So I figured I'd better write about some Napa Valley wine again, because we all know what happened the last time all of those totally unrelated elements came together, right?
Not that I'm superstitious. But I might be planning on wearing the same pair of underwear I had on during Superbowl XLIII. And I'm not gonna say if that pair of undies been washed since SB XLIII. Let's just not go there, okay?
Fortuna smiled and samples of two Napa wines well-worth your time have recently made their way to my sample stash ("recently" for me, that is, not "recently" in normal people time – which means these wines have done a bit of cellar-aging by virtue of my total failure at personal time management).
And the odd thing is, they were wines I had fully expected to hate…