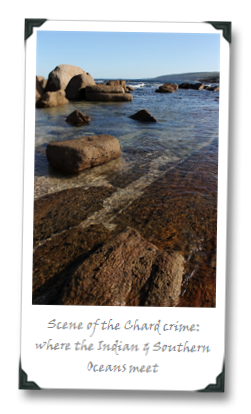 I know what a lot of you geeky-geeks (I use that as a term of endearment, by the way!) are already thinking after reading the title:
Dude, WTF?!? What about Yarra Yering?
Yeah, yeah, I know, I know.
Here's the thing about Yarra Yering for me: that Chardonnay is the Moriarity to my Holmes; while I recognize it's brilliance, I find it a deeply, funkily flawed wine. Yarra Yering posses a quality of greatness, for sure, but I simply cannot drink the stuff. I cannot get past the oddness of that combination (and this is coming from a guy who loves odd combinations). I feel as though I got into a (losing) fistfight with that wine.
And so maybe there's too much personal bias coming to bear here, but Yarra Yering is not in the running for my vote on top Southern Hemisphere Chard. But on my recent sponsored jaunt to Western Australia, I did find a Chardonnay that has my current vote for top bragging rights in that department (for what hat's worth), specifically south of Perth and a short hop inland from where the Indian and Southern Oceans meet, at Leeuwin Estate…